Planned Giving Menu
Planned Giving

Peter Krystofik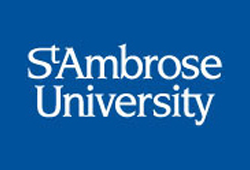 Peter Krystofik '68, from Albany, New York recalls in high school trying to decide where he should attend college after graduation. There were a few stipulations that Peter had to follow while choosing a school. His mother said it had to be a Catholic school, while his father said it had to be accredited and affordable. Peter's priorities were that it had to be somewhere new and away from the northeast. Peter also had an uncle that worked for the Rock Island Arsenal, and he suggested to Peter's father that they take a look at a great school, St. Ambrose. Peter and his father made the trip and from that visit he knew this was the school for him.
Peter was very involved with the music side of SAU. He enjoyed being a member in the bands on campus, playing several instruments such as the saxophone, guitar and keyboard. He continues to play in bands today. Peter graduated from St. Ambrose in 1968 with a degree in Sociology.
After graduation, Peter held positions in a variety of fields such as, teaching school in Chicago, working in public welfare cases, child abuse investigations and MIS computer work. He retired from the information technology field.
Peter never married and has a passion for travel. He lives in Asia six months of the year in places such as Cambodia, Laos and Vietnam. While living overseas, he works with the children living in the streets of these countries. He volunteers his time with these children to help them get back on their feet and have a better life.
Peter has a great appreciation for St. Ambrose, as they stood by him through thick and thin when he was on campus. SAU helped him persevere and earn his degree. He said, "I have a lot of love and respect for the guys I went to school with; we were like a fraternity".
When Peter came back for his 50th class reunion in 2018, he was excited to see St. Ambrose today with state of the art facilities, new residential halls and renovations. With that, he said even though it was growing and developing, the school still had that small family feel that he loved so much. He said the Midwest is such a wonderful place.
Peter made the decision to name St. Ambrose in his estate plan, naming the university as a partial beneficiary of his brokerage account. Not only does this gift plan enhance the educational opportunities offered to our students, it also is a tax efficient way to leave a legacy to a charity. "SAU was a big part of my life. They set me up for the rest of my life with earning a degree, having great careers and success which has also allowed me to travel, which is one of my great passions". Peter said, "I wanted to give back to the university that meant so much to me".