Planned Giving Menu
Planned Giving

Frank '64 and Janice Kluts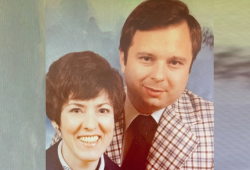 His love for St. Ambrose University began the moment he set foot on campus. Frank Kluts '64 was headed to the University of Illinois to begin his freshman year. On his way there, he came to the realization that something didn't feel right. He made his ride stop and turn around and headed back home. A few days later his friend Larry told him to come check out SAU. Frank knew from that very first visit, this was the place for him.
Frank grew up on the south side of Chicago and was an only child, so he preferred a college close to home. He also wanted a Catholic education, as he had a very deep faith in the Lord.
Frank graduated from St. Ambrose in 1964 with a degree in Political Science and a minor in Sociology. His first job out of school was teaching at Christ the King on the south side of Chicago. He loved teaching and did this for eight years. He then went on and worked for Swift Company and retired as a manager for Cargill Corporation after a long and successful career. Janice, Frank's wife, said Frank had several opportunities to move to other areas of the country for his jobs, but he wanted to make sure that he could stay close to his parents to take care of them, as they had taken care of him.
Frank and Janice were both from Chicago and met through mutual friends. They were married for 45 amazing years. Janice said Frank was always talking about how much he enjoyed St. Ambrose. He just loved the area, the school, the professors and his friends. His dream was to move back to Quad Cities so he could teach part-time at SAU. He wanted to help the students like his professors helped him.
He told Janice that when he died, he wanted to make sure to give a gift back to St. Ambrose. He wanted to help students and the university, as the education he received from SAU set him up for his successful life. Frank passed away in 2020. Janice wanted to make sure she fulfilled Frank's wishes by giving back to St. Ambrose.
Janice worked with Sally Crino on the best gift plans and how it would be distributed to St. Ambrose. Janice decided on three different plans to use. First, she established the Frank M. Kluts Endowed Scholarship. Second, she used the IRA charitably rollover gift plan with her IRA inheritance using the RMD and third, she set up a gift by naming the endowed scholarship at St. Ambrose University as a beneficiary in her estate plan.
Janice was so pleased to be able to establish an endowed scholarship in memory of Frank. It means so much to her that his legacy will be remembered at the place he loved so much and that students will continue to benefit from his gift for generations to come.