Planned Giving Menu
Planned Giving

Jennifer Rushton Letter to Donors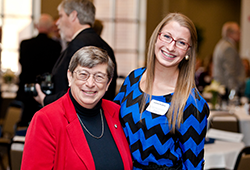 Dear Donors,
My name is Jennifer Rushton, I am a senior here at St. Ambrose University. I am a biology major with a biomedical concentration. I am from a microscopic town called Peterson Iowa. My hometown is located in the northwest region of Iowa. My town consists of about 300 people and is a very close knit loving town. If you were to walk through my town, you would be welcomed by each person you met. This is my favorite trait of my town and I believe it has had a great impact on how I live my day to day life!
When asked how I decided upon St. Ambrose University, my story often shocks people. I did not intend to attend school here; I merely stumbled upon this university in the mix of much turmoil. My original plan to attend school in Chicago fell apart when I visited the university. I did not feel welcomed, and it simply was not a good fit for my personality. Though St. Ambrose was never part of my original plan, it has proven to be the best stumble of my life. St. Ambrose is not only my educational institution, it is my home. I cannot describe in words how welcomed I felt the first time I set foot on this campus. Like all great things in life, when you know, you just know. There is no explanation needed, you simply feel it in your heart. Without an official visit, without a tour, and without any background knowledge on the school, my heart was sure that this is where I was meant to be. I was welcomed with open arms onto the track team, into my major, as well as into many clubs and organizations. These among others are the reasons that I call St. Ambrose my home. When I am here, I feel the same sense of community I do when I am in my little town. Every person I walk by on campus, I greet with a warm smile and a gracious hello. This is simply something that I could not find at other Universities. I knew from the moment I first stepped on campus, that I had found my home and that I would be able to develop as the person I wanted to be here.
I have always had a deep passion for the sciences, biology in particular. I also find great joy in helping others. Combining two of the things I hold dear, I decided that I was going to pursue a career in the medical field. After many years of considering the many options within the medical field, I have finally decided to pursue a career as a Physician's assistant. My decision to pursue the medical field has been reinforced through personal experience. When I was two years old my grandmother died of an aneurysm of the brain. At about age eight I developed Scarlatina which is a sister disease to the Scarlet Fever. When I was eleven my dad survived a mild heart attack. When I was sixteen my heart got flagged and it was discovered that I too have heart problems. When I was seventeen my cross country coach who was one of my closest friends died of stage four lymphoma. All of these and more are the experiences that built the base foundation to my desire to pursue medicine. To reinforce this desire, I have been interning at various family medical centers as well as at Genesis Family Medical Center. I have totaled over 100 hours of physician shadowing and I love every second of it! These experiences have heightened my desire to continue my education and begin my career.
After I graduate from St. Ambrose University I plan to attend PA school. I would like to pursue a focus in pediatrics as I establish myself. I am in the process of narrowing down my choices for PA school and have begun the process of applications and finalizing my requirements.
There is no adequate way to express the gratitude I feel in my heart. Without them simply put, I would not be here. My financial standings have never been good, and after my parents lost our house at the end of my freshman year in college I thought it was the end of school. I was fully prepared to accept that school was not possible and that I would drop out and get a job to ensure that my little brother would have a stable situation in order to graduate high school. I did not know what to do or where to turn because I did not want to have to give up my education. I was blessed with more than I could have ever asked for when I was told I was going to receive a donation. Sometimes when our lives are the darkest and there seems to be no hope that is the very moment when we receive our brightest gifts.
The donations were the light in my darkness. It was like a ray of light that said somehow everything will work out. The donations I receive take a huge weight off my shoulders. I am a very dedicated and busy college student. I balance a heavy course load, varsity athletics, student government, up to 24 hours of work a week, as well as volunteering. The donations give me a little room to breathe, take off enough stress for me to focus on other things for a while. Coming from very unstable financial situation, having even a little stability gives me hope. Even now these words are simply not enough to express the gratitude I have, the words thank you simply are not enough but those seem to be the words that keep coming to my mouth. Deeply, genuinely, from the bottom of my heart, thank you for your donations that help students like me when all hope seems to be lost.
As my time here at St. Ambrose comes to a close, and I reflect on all of my experiences, I could not be more pleased. I have been fortunate enough to be a very involved student, I have had so many opportunities and I am so incredibly grateful for that. When I look back at my journey, I can't help but think that my story is somewhat inspiring. However, it is not just my story; this is the same story of many other scholarship recipients at this university. It is not just our stories, but it is very much the story of the donors as well. Without the donations, I would not have a story, I would not be here. When I look at the big picture, the donations I have received are a bridge that connects me and my story to each and every donor, and I could not be more grateful to have the donors as a part of my story here at St. Ambrose.
From the bottom of my heart, my sincerest thanks,
Jennifer Rushton