Planned Giving Menu
Planned Giving

John and Rhonda' 13 Barr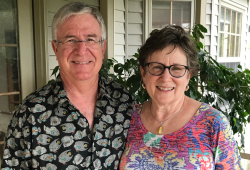 John and Rhonda '13 Barr are very familiar faces to St. Ambrose University. John is the founding director of the St. Ambrose University Physical Therapy Department and served as a faculty member from 1992-2017. Rhonda earned a post-professional Doctor of Physical Therapy (DPT) degree from St. Ambrose in 2013, while completing a 41 year career as a physical therapist at the University of Iowa Hospital. There, she specialized in critical care patients with cardiac & pulmonary problems.
"One of the things I enjoyed most about teaching at St. Ambrose, was the small class sizes, which allowed high quality interaction with the students. The smaller class size enables you to help students more closely. I was also able to build long term relationships beyond the classroom with some of our students," John said.
"I was very pleased with the flexibility of classes offered by SAU to complete my (DPT) degree, which allowed me to continue working without taking significant time off. I enjoyed learning new techniques that weren't around when I was in my earlier years of education. I was also able to share my clinical experiences with students I was in class with. I feel this was a benefit for them," Rhonda said.
As the Barrs began to approach retirement, they had the means to begin the discussion of paying it forward. They knew they wanted to give back to St. Ambrose, as the university played an important role in both of their lives. They reached out to Margaret in the St. Ambrose Advancement office to let her know they had decided on a gift plan. The Barrs have named St. Ambrose University as a beneficiary in their estate plan. They have chosen to create an endowed Physical Therapy scholarship through their estate plan.
John encourages other faculty and staff to give back to St. Ambrose. "As you start to reach the retirement phase in your life, look into the many ways you can give back to help the vitality of the University. Naming St. Ambrose in your estate plan is a great way to pay it forward and to help provide students with more opportunities. This can be a pledge for the future growth of St. Ambrose," he said.