Planned Giving Menu
Planned Giving

Honoring Joseph (Joe) '53 & Joyce DeBruyn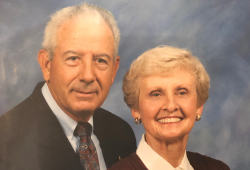 Joseph (Joe) '53 and Joyce DeBruyn were very passionate about St. Ambrose University, as this was where they first met. Joe graduated from SAU in 1953 with a bachelor's degree in accounting and Joyce graduated from the St. Ambrose Division of Nursing in 1954, receiving her R.N. that same year.
Joe received his CPA certificate in 1955 and was one of four founding partners of Clifton, Gunderson, Coker & DeBruyn in 1960 in Peoria, IL. He worked there until his retirement in 1995. Joyce practiced her profession for many years at the Methodist and Proctor Hospitals in Peoria.
The DeBruyns were big supporters of St. Ambrose, not only as donors, but also with their time. Joe was a member of the SAU Alumni Board for many years. A St. Ambrose education didn't stop with Joyce and Joe, two of their daughters attended SAU and oldest daughter Julie '78 graduated from SAU.
After Joe and Joyce's passing, their son Steve said, "my three siblings and I wanted to honor our parent's legacy in a way that would continue to help others forever."
"My parents were private people, so we wanted to make sure we were honoring them appropriately. I went to my siblings with the idea of an endowed scholarship and they were in full support," he said.
"I had the means and opportunity, so I choose to setup an endowed scholarship. I wanted something to create a legacy with their name that would go into the future," Steve said. "My parents and I both believed in education and creating opportunities for people and SAU was at the top of the list."
"I really liked the idea of the endowed scholarship program at St. Ambrose, as the scholarship will go on in perpetuity. The endowed scholarship also gives the ability for our family to add to the scholarship over time and as opportunities arise," he said.
Steve worked with Sally Crino in the St. Ambrose Advancement Office to develop the scholarship agreement. "My parents were very passionate about their careers as well, so I wanted to capture not only their alma mater, but also their careers. The scholarship will be awarded to either an accounting major or nursing student," Steve said.
"My parents supported St. Ambrose while living and I am excited to keep those ties continuing with the University in my parents honor."