Planned Giving Menu
Planned Giving

Herbert '84 Dewey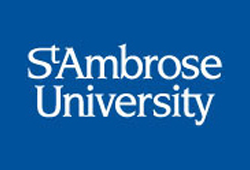 Herbert '84 Dewey appreciated the quality of education he received from St. Ambrose University and especially enjoyed his relationship and working with Dean James Jensen. Herb was very active and engaged at St. Ambrose. "I was the President of the SAU Graduate School Alumni Association, which also allowed me to sit in on regular Board of Trustee meetings," Herb stated.
Mr. Dewey worked for Servus Rubber Company in Rock Island, IL, when he made the decision to go back to school for his master's degree. Herb graduated from St. Ambrose in 1984 with an MBA degree. "The real-life experiences and the value of learning from the case study curriculum in the program at SAU prepared me to continue my education at Stanford after I graduated from SAU," he said.
"Some of my fond memories of St. Ambrose are the opportunities I had helping out other classmates and gaining valuable people skills," Herb recalls. "That is what business is all about."
Herb knew he wanted to give back to St. Ambrose in some capacity, so he met with the Dean of the College of Business, Dr. Maritza Espina and Sally Crino in the SAU Advancement Department to discuss options for a legacy gift. Herb and his wife Carole chose to establish an endowed scholarship at St. Ambrose University through their estate plan. This plan enhances the educational opportunities offered to our students, and it is a tax efficient way to create a legacy gift endowed fund.
"I chose to give back to St. Ambrose University, because I wanted to pay it forward," Herb said. "I want to make sure people who are not able to find the means and resources for an education are given that opportunity. I believe in doing the right thing and making sure people are better off than they were yesterday."