Planned Giving Menu
Planned Giving

Ryan Weber '98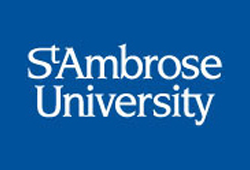 Ryan Weber's '98 goal was to make a difference for a first-generation accounting student and provide encouragement opportunities to an aspiring accountant. "I wanted a student to look at the accounting profession and realize how it can open many doors to a successful professional career in accounting or business in general. I also want to pay it forward by giving an opportunity to those students like others have done for me over the years", Ryan said.
Ryan was a first generation, four-year degree graduate in his family. He graduated from SAU in 1998 with an accounting degree, which is why he wanted to give back and help establish an endowed scholarship.
Mr. Weber is the market leader of RSM's Quad Cities practice and wrote a proposal to the RSM Foundation to help facilitate an endowed scholarship campaign to engage other employees, retirees and alumni to support a scholarship fund. Ryan and his wife Laura made the lead endowment gift and the RSM Foundation will match dollar for dollar up to $75,000. These gifts will help fund $150,000 to The RSM First Generation Outstanding Accounting Student Endowed Scholarship. This scholarship will be awarded to an outstanding first-generation accounting student at St. Ambrose University.
There are several first-generation accounting students who work or have worked at RSM. "Someone has helped every single one of us here at RSM, from course work to serving as professional and life mentors and providing internship and job opportunities; now we want to make a difference." "As we were considering giving back to St. Ambrose it was important for us to ensure that our contribution impacted individual students", Ryan stated
When looking back on his experience at St. Ambrose, Ryan remembers how life changing it was. "The close-knit community, approachability of his professors, hands-on learning experience and encouragement from faculty is what guided me through those formative years and made me realize that my career path is in my hands", he stated.
"The professors are doing great things in the Accounting Department at St. Ambrose today. They are invested in the accounting program and truly care about the long-term success of their students. At RSM we have seen first-hand the quality of individual that the university has been preparing for the professional world and it is benefiting RSM", Ryan exclaimed. "There is a great partnership between SAU and RSM and this scholarship is one way for us to show our appreciation and provide encouragement for aspiring students."
"This scholarship can instill confidence in a student that may be uncertain of their future and encourage them to take the next steps to complete their degree", Ryan said.