Planned Giving Menu
Planned Giving

Barbara Cassidy Frommelt '55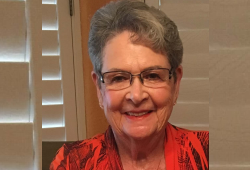 Barbara Cassidy Frommelt '55 was inspired to create a nursing scholarship in honor of her nursing classmates and her life-long friendships with them.
Barb grew up in Dubuque, Iowa and was the youngest in her family. She graduated from high school at Visitation Academy. She and six of her high school classmates were recruited to attend St. Ambrose University and their nursing program.
"My mother insisted I get an education and be able to earn a living for myself," Barb stated. Due to her parents' encouragement and sacrifice, she was a first-generation college student. Barb married Robert J. Frommelt three days after her college graduation and began work at Finley Hospital in Dubuque.
"I have wonderful memories of St. Ambrose and going through the nursing program. The nursing students spent a lot of time together, studying and working in the hospital. The classes weren't always easy, but we relied on each other to get through those tough subjects," Barb shared.
"Sister Mary Brigid Condon, teacher and director of nursing at St. Ambrose (1954-65), saw that we were well educated." "We would meet with her every Wednesday night to review lessons. She would give us extra work to make sure we understood what was being taught. She wanted to make certain we were well prepared for the state test," recalls Barb.
The many hours of being in the classroom, working at the hospital, studying and enjoying college life helped build a friendship bond with many of Barb's nursing classmates that would never be broken.
"There was 26 of us who graduated in 1955 with a degree in Nursing from SAU. After graduation many of us would get together once a year. As the years went by, we even found time for an annual week-long vacation. That tradition continues to this day. We still get together once a year, we typically meet now in the Quad Cities," Barb said.
Because of the amazing education and lifelong friendships that Barb obtained from St. Ambrose University, she wanted to give back. "Today's world economics are terrible. It is a shame when a young woman or man wants to pursue an education in the health field, but can't afford it. I want to be able to help make that a possibility for a nursing student," Barb exclaimed.
Barb reached out to the St. Ambrose Advancement office to begin working on her plan to establish an endowed scholarship. She chose to use her IRA charitable gift rollover plan to fund the scholarship. She will also be giving a supplemental annual gift so that the scholarship may be awarded as the endowed portion grows to become fully funded.
Thanks to Barb's generous gift, The Barbara (Cassidy) Frommelt '55 Nursing Endowed Scholarship will help SAU nursing students pursue an education for years to come.